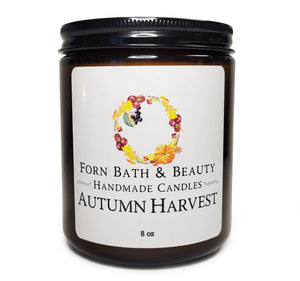 Autumn Harvest is a walk in the woods with the smell of crisp leaves underfoot and fresh pine with berries falling off the trees. Cheerful and welcoming with the spicy warmth of autumn leaves, cinnamon apples, nutmeg, and clove.
Fragrance Profile:
Top Notes:  pear, apple, Lemon, Orange, Blackberries
Mid Notes:  cinnamon, clove, nutmeg, Carnation, Rose, Muguet
Base Notes:  vanilla, musk, woods, pine, autumn leaves, Cedarwood, Patchouli, Eucalyptus leaves
100% soy wax, 8oz candle in a beautiful amber glass jar! Handmade with love, joy, & a little magick!